Buddha Enlightenment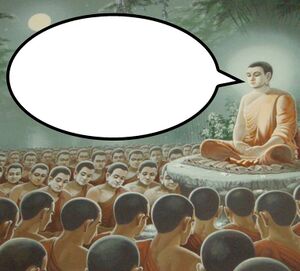 About
The Buddha Enlightenment meme was created using a well known painted image of Buddha where he is addressing his followers. It reflects education and apprenticeship.
Origin
The image of the Buddha painting was pulled from Shutterstock. Its description states that the original piece of art is located in Thailand on the wall of Viharn Sien found at Chon Buri.
In Mid-July of 2016 a Twitter user posted one of the first known memes of this religious painting. The user, @cormacrussell, started a trend by inserting the message "The best way to become enlightened is to argue with people on Facebook" within Buddha's dialogue balloon.
FleshAetus uploaded his own meme using the Buddhist painting receiving close to 500 points on Reddit since 2016. Other Reddit users have continued to add their own versions of the meme as well.
Meaning
This meme is used as a method to deliver personal opinion to the masses in a unique way. The messages take a humorous spin on significant topics.
Examples
Popularity
See also