Spider-Man's Presentation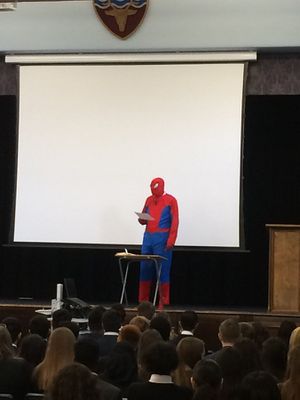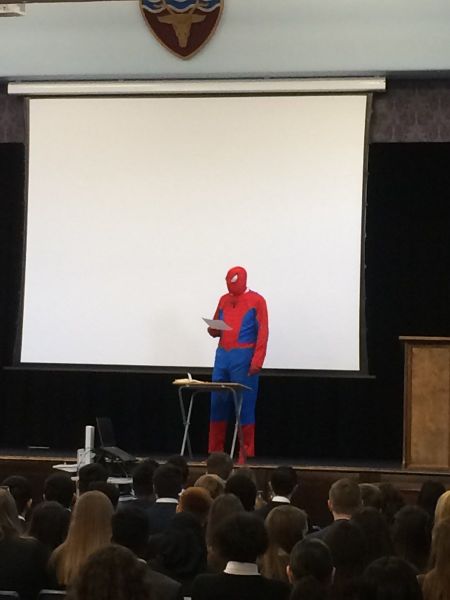 About
The meme "Spider-Man's Presentation", also called Teaching Spider-Man, is an image template (called an "exploitable") of someone wearing a Spider-Man costume while standing in front of a blank pull down projector screen.
Beginning in January 2019, various edited versions of the image, with different jokes, opinions, and statements photoshopped onto the blank screen, have been published online.
Origin
The Twitter account for Chingford Foundation School posted an image of a person standing before an audience while wearing a Spider-Man costume on January 30th, 2019.
In addition to the costume and the audience, the large pull down projection screen behind the "Spider-Man" and the piece of paper in the person's hand create the impression of a school presentation. Over the course of one month, Chingford Foundation School's tweet was liked and retweeted more than 15,400 times and 3,300 times, respectively.
Meaning
While early versions of the meme seem to treat it as a presentation topic-style format, like bamvskc's tweet about the impact of Brexit on the spider community, two January 31st posts to the /r/dankmemes and /r/MemeEconomy subreddits by U_R_A_Bold1 seemed to dramatically change the direction of the exploitable image, suggesting that it take over the format style currently occupied by the Lisa Simpson's Presentation exploitable image.
The /r/dankmemes post received a Reddit Silver Award twice, and was upvoted more than 46,000 times in a single month. These posts are also where the alternative name of Teaching Spider-Man came from.
Generally, the Spider-Man's Presentation format is used to demonstrate a concept, strange thought, or opinion, but some versions use the style of an opening statement, conclusion, or even a slideshow title.
Examples
Popularity
See also