Buff Mickey Mouse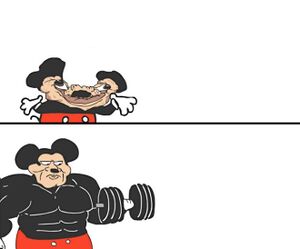 About
The "Buff Mickey Mouse" memes are based on the parody created by Sr Pelo on YouTube. In this parody Mokey Mouse comically mimics Mickey in an exaggerated fashion. A couple of scenes gained popularity on Reddit during the second week of October 2019.
Origin
In late April 2019, Sr Pelo uploaded the episode called 'Asteriods' on YouTube. Mokey Mouse with his head pounded in by Grooby and looking incredibly buff after a dose of asteroids are two of the most popular still images captured. A Reddit user, Santapensa, submitted a JoJo's Bizarre Adventure themed meme based on these images. In less than half a year the episode had over 5 million viewers and the post had generated 28 upvotes.
The spread picked up pace in mid-September 2019 when KebabLite submitted a comparison based on the same two favored clipped images of Mokey Mouse on subreddit. In one month it gained more than 26,000 upvotes. Later that month, MrCalazans reposted KebabLite's submission and generated close to 13,000 upvotes. Reddit user syuyrw followed suit by submitting their own meme based on the two still images in circulation. This received nearly 6,000 upvotes.
In mid-October 2019 LordCookieCarma69 submitted a post using the same format and gained 5,000 upvotes within a couple of days. Another Reddit user, Xiphactnis, submitted a similar version with a cropped Mematic watermark. The post received more than 70,000 upvotes in less than a day. Within hours it had gained a significant amount of popularity in several subreddits.
Meaning
Buff Mickey Mouse is used in collaboration with the still image of Mokey's head pounded in as a comparison tool. It has been used to compare bots, parents, and school amongst many other topics.
Examples
Popularity
See also