Butter the Bearded Dragon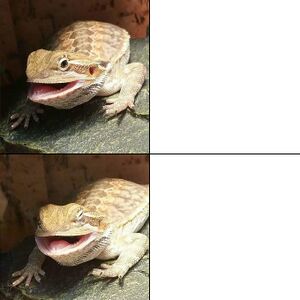 About
"Butter the Bearded Dragon" memes were inspired by a pet owner who was losing his bearded dragon to a deadly tumor.
The beloved pet was scheduled to be euthanized at the end of August 2019. The pet owner posted images with captions of the bearded dragon as a way for Butter to live on digitally.
Origin
Redditor GreeseMunkeeGamer posted to a few images of the pet with one of them captioned "Butter the bearded dragon is being put to sleep tomorrow because of a tumor, but maybe she can live on as a meme?" on August 27, 2019.
This received a huge response from viewers and earned over 700 upvote points. The Redditor than posted a similar image later that day that received an even bigger response and earned over 20,000 upvote points.
Several Redditors joined in on the cause with their own creative spin. In less than 24 hours Butter was a Reddit legacy. The next day, Memebase highlighted the reasons for the esteemed pet's newly found fame in a published article.
Meaning
Butter the Bearded Dragon memes serve as a sure-fire example of keeping the memory of a loved one alive. When life is being taken unexpectedly it inspires the need to live on in some way beyond the days left on Earth.
Examples
Popularity
See also