Condescending Willy Wonka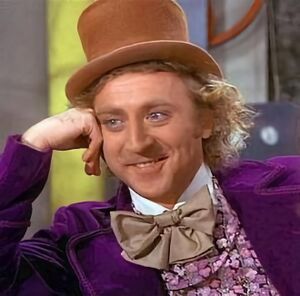 About
"Condescending Willy Wonka" is an image from the 1971 film Willy Wonka & the Chocolate Factory. It is meant to show an expression of sarcasm with text usually showing a thought that the author says is impossible.
Origin
The original image comes from a scene in the 1971 musical "Willy Wonka & the Chocolate Factory" in which Willy Wonka (Gene Wilder), asks the children if they would like to see a new candy machine.
The meme really gained popularity in October 2011, when an unknown user posted the image with a caption that said "Oh, you just graduated? You must know everything." There was another meme that used the same image, called "Creepy Wonka", which hinted towards sexual remarks, but it never gained popularity, thankfully.
Meaning
The Condescending Willy Wonka meme is meant to show sarcasm, as well as a patronizing attitude, with text that is meant to be sarcastic, making the meme directed toward a certain topic or subject that usually has some sort of conflict or disagreement.
Examples
Popularity
See also