Deep Thoughts With The Deep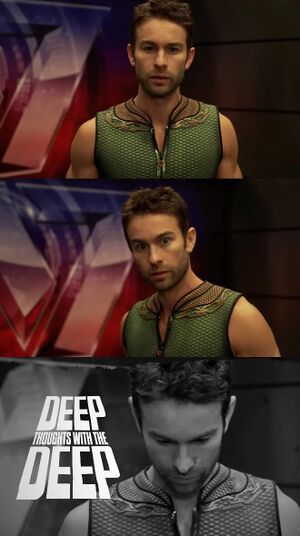 About
"Deep Thoughts With The Deep" is a popular way of thinking among many people. It is based on the idea that everything has deep, hidden meanings. This way of thinking can be used to find new ways of looking at things or make sense of the world around us.
Origin
This meme comes from the Amazon series "The Boys" (season 3). The quotable line about deep thoughts was said by The Deep (played by Christopher Chace Crawford).
Meaning
This term is used to describe a meme that has a deep or hidden meaning. These words on pictures are frequently employed to convey ideas and sentiments people prefer to stay concealed from others. The deep can be a powerful tool for self-reflection and growth, as it helps people to understand their concepts and to see how they impact our lives.
They have been used for years to help people explore their ideas. They are combined with images to create a concept many people can relate to and understand. Anyone can use the deep thought with the deep to express themselves better.
Examples
Popularity
See also