Dust Storm Dog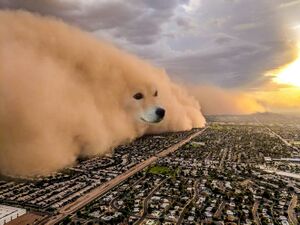 About
The meme known as "Dust Storm Dog" uses some image editing to place a dog's face over footage of a dust storm, also known as a "haboob," striking Phoenix, Arizona.
Origin
August 2nd, 2018 saw Jerry Ferguson upload an aerial photograph he had taken to Twitter. This particular aerial photo entailed a massive sweeping dust storm looming over the capital city of Arizona. Later that day, @chopperguyt, another user of Twitter, tweeted an edit of the image that garnered more than 10,000 likes and 5,000 retweets in less than 24 months.
On August 3rd, ggfergu, a Reddit user, posted @chopperguyt's image to r/pics, where it hit over 5,000 points, 93% upvotes and over 1,000 comments in the same period of time as the initial edit's lifespan.
Come November 4th, 2019, @robinlopvet, of Instagram, shared a derivative take on the image that added a dog's face to the storm. At 710 lies in five months, this version, known as "haboob doggo" or the "dust storm dog" meme, was born.
Meaning
This particular meme is commonly used to express any sort of overwhelmingly powerful, massive or otherwise unassailable force. This image is often accompanied with text to give some sort of context to the force. Provided below are several examples of proper usage.
Kids asking for money when they hear the jingle of an ice cream truck.
The internet's reaction to someone posting something that is either factually incorrect or an opinion that is unpopular.
Disney looking over the companies and intellectual properties it has not yet acquired.
Flash in the pan songs like "Party Rock Anthem," "Gangnam Style," or the "Harlem Shake" in the years that they were born and died.
The perfect counter to any claim, one that leaves the other person completely helpless.
Examples
Popularity
See also