Swole Doge vs Cheems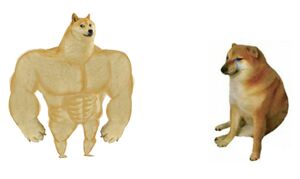 About
The Millennial Generation could easily be called the Meme Generation, and their incisive online commentary will likely be studied closely by future sociologists.
When we run into image macros such as "Swole Doge vs Cheems", we can see that young netizens understand that they are living in an era that is radically different from that of their parents; they see the generation gap, and they are not afraid to apply sarcasm to recognize their self-perceived shortcomings.
Origin
Right in the midst of the coronavirus pandemic of 2020, a Facebook user posted an image of a muscular "doge" (Swole Doge) next to an image of a wimpy canine (Cheems). The strapping dog is meant to portray a 17-year-old coming home from work and asking his wife about the welfare of the children. The wimpy dog is the Facebook user about to become an adult, but he or she has other concerns in mind, namely thinking about cute anime characters and listening to music on headphones.
By the middle of May, the original image was modified to show an even more imposing "doge" as World War I veteran and a survivor of the terrible influenza pandemic of 1918, which killed millions around the world in less than three years. By Memorial Day 2020, various versions of this image macro were making the rounds on Reddit, often with political messaging.
Meaning
This meme illustrates how some members of Generation Y and Generation Z feel when they look at the hardships that prior generations faced and how they prevailed; in other words, this is a self-deprecating meme with sharp societal observations.
Examples
Popularity
See also