Guy Who Have Lot A Water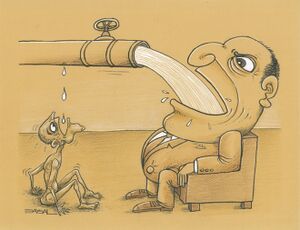 About
This particular meme is a sepia-toned cartoon of two men sitting at a flowing water pipe – "Guy Who Have Lot A Water".
One of the men is clad in a suit and seated in a chair positioned right in front of where the pipe empties out, giving him plenty of water to drink. The other man is an emaciated person sitting cross-legged on the ground and reaching up to drink the droplets of water that leak out above his head.
It is most commonly used as an exploit macro.
Origin
September 21st, 2010 is when BAYSAL an artist, uploads the cartoon to Flickr. They gave it the title of "Injustice." Injustice has garnered an excess of 6,100 views over a decade. It became the base material for various memes on November 20 2012, when author Ed Steer published an article to "Casey Research" that ended with the first exploit of the art piece.
Meaning
This meme works to illustrate the disparity that can emerge when everyone goes after the same resource but does not all belong to the same group. Examples of appropriate use include the following.
Jeff Bezos compared to the employees at his company, Amazon, in regard to money.
The spotlight in Dragonball Z; Goku being the wealthy man and every other character being the emaciated man.
A mother's attention being given out between her first child and her subsequent children.
Examples
Popularity
See also