He's Out Of Line But He's Right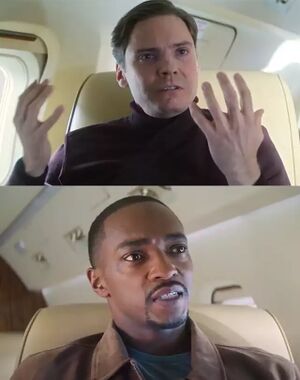 About
The Disney+ digital video streaming network has been around since late 2019, but it has already inspired hundreds of memes thanks to intellectual property powerhouses such as Marvel Comics.
Each time a new Marvel film or series begins streaming on Disney+, you can count on exploitable images, macros, and object labeling pictures being made and incorporated into the world of online memetics. "He's Out Of Line But He's Right" is an example of this phenomenon.
Origin
The Marvel series "The Falcon and the Winter Soldier" premiered in March 2021, and its third episode became available to Disney+ streamers on April 2.
A few days later, a Tumblr user posted the first version of the two-panel exploitable from a scene in which the two main characters are discussing music with a nemesis named Baron Zemo. The initial punchline was different, but the gist was the same, and the exploitable went through various versions in just a few days.
By the time the two panels were posted on Reddit on April 9, the punchline had adjusted to the current version, which has received hundreds of thousands of positive votes.
Meaning
This meme can be used to illustrate a situation in which you8 are forced to agree with someone you do not particularly like, but who happens to make a good point nonetheless. Some of the funniest versions of this meme include observations made about the perils of extreme religious and political fanaticism.
Examples
Popularity
See also