How Do Y'all Walk in Shallow Water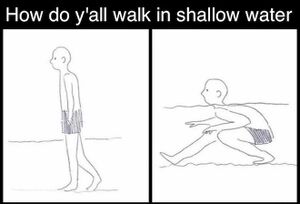 About
In late March 2022, J. Debbiel tweeted the meme "How Do Y'all Walk in Shallow Water".
The meme debate began on Twitter between artists who drew their preferred methods for swimming in or wading into shallow water.
Origin
J. Debbiel posted on Twitter sketched two images of a man of boy wading in shallow water. In one drawing, the young man slowly walks into shallow water. In the second drawing, the young man is squatting. His right leg is straight out. His arms are bent and are in front of him. The young man is keeping his head above the water. The animated sketch received over 42,600 retreats. Many people who saw the sketches on Twitter have given them 378,600 likes.
Meaning
An amazing image, drawing, or video clip that can evoke a common thought of feeling. The image can represent a common idea or feeling.
Examples
Popularity
See also