Kids Scared of Rabbit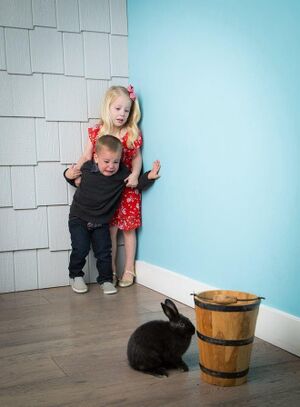 About
An exploitable object-labeling image macro, "Kids Scared of Rabbit" depicts a young girl and boy, the former looking more frightened than the latter, cowering from a small black rabbit sitting next to a bucket.
In 2015, one of the children's parents brought the photo to the attention of the internet's meme communities. Since then, the format has been frequently employed to depict communities gripped by panic, typically in response to relatively innocuous threats.
Origin
Camera Shy, a Utah-based photography studio specializing in family portraits, took the picture in the beginning of 2015. "And sometimes bunny sessions go like this..." is the caption Camera Shy used when they first shared the photo online on March 14, 2015.
According to the caption accompanying the March 16th Imgur post by user RockiesInOctober, "My kids during our family pictures this past weekend." That same day, they posted the image on Reddit's /r/photoshopbattles forum. By 2021, the post had over 3,000 upvotes, and in the years that followed, many different people would create their own versions of the image.
Meaning
The meme captures a truly bizarre scenario that even those on the fringes of society would find unusual. It tries to surprise or amuse viewers by putting together things that are very different from each other. These kinds of memes often use strange connections to make people laugh or make a statement about social norms that makes you think.
Examples
Popularity
See also