How Do You Do, Fellow Kids?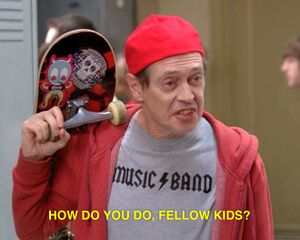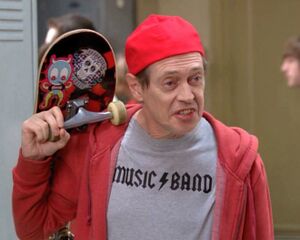 About
This meme (known as "How Do You Do, Fellow Kids?") is a reaction image intended to be used when a person is interacting with a community that is sorely beyond their familiarity.
Said image involved Steve Buscemi dressed like a teenager, carrying a skateboard and uttering the titular phrase. The image has also enjoyed a great degree of photoshop manipulation to tailor it to specific subcultures and has endured long enough that the phrase, uttered without the photo, is sufficient to convey the message.
Origin
The "30 Rock" episode "The Tuxedo Begins" aired on February 16, 2012 and featured Steve Buscemi playing the role of a private detective hired to bust a strike.
As Buscemi's character reflect on his other jobs, he mentions the time he infiltrated a high school as a student. Despite being a man in his mid-50s, the detective believes he managed to successfully blend in. The detective's disguise is youthful yet painfully generic and he utters the phrase upon meeting some kids.
Meaning
This meme has a few applications:
It can be the perfect self-deprecating icebreaker for someone who decides to interact with an unknown demographic or subculture of people.
It can also be used as a jeering response to the efforts made by companies and corporations that try to show how "woke" or "with it" they are to results that are obviously disastrous to anyone belonging to that particular group.
Examples
Popularity
See also