Learning to be Spider-Man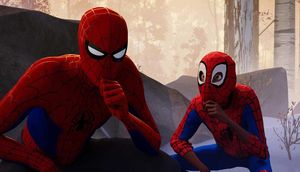 About
The "Learning to be Spider-Man" meme refers to a shot from Spider-Man: Into the Spider-Verse, the recent animated film. Generally, the shot is used as an image macro with labels on the two characters in the image, Peter Parker and Miles Morales.
Origin
Spider-Man: Into the Spider-Verse was released in the United States on December 14th, 2018. During the film, Peter Parker trains Miles Morales on Spider-Man's superhero abilities. At first, Parker is a reluctant mentor, but over time, he gets more enthusiastic. At one point, Morales is mimicking every move Parker makes, including copying Parker's pose by crouching down, bracing his right arm on his right knee, and resting his chin on his left hand to think.
Redditor RoseBladePhantom posted a labeled screenshot of the scene to /r/MemeEconomy on January 2nd, 2019. The captioned image implied that D.C.'s Extended Universe was learning from the Marvel Cinematic Universe, and received more than 1,600 points and 29 comments, with 96% upvotes.
Meaning
Generally the image is labeled with words, but on several occasions it has been labeled with other images, app icons, objects from games, or a combination of images and text.
Alternative versions of the meme include redrawn images. Some versions also reference the fatherly feelings that Parker begins to experience over the course of the movie as well, while others make use of a humorous reversal, showing a more "experienced" group as Morales.
Examples
Popularity
See also