Spider-Man With a Wrench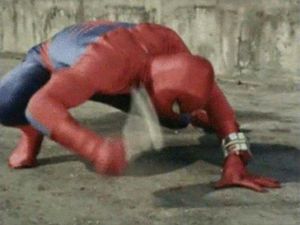 About
"Spider-Man With a Wrench" meme consists of a still from Japanese Spider-Man, a show dating back to the late 1970s, in which Spider-Man hammers the ground with a wrench. Although the most recent iteration is in still-image form, the Internet is full of the utilization of its GIF format.
Origin
Spider-Man is a superhero created jointly by Steve Ditko and Stan Lee back in 1962. Five years later, in 1967, the first animated series featuring the character was broadcast on ABC, Spider-Man.
The Spider-Man With a Wrench meme originates from the Japanese version of Spider-Man, also fittingly referred to as Japanese Spider-Man, which consisted of 41 episodes that were aired from May 1978 to March 1979.
This meme originates from Episode 34 - "Surprising Camera: Murderous Event".
In 2014, a Tumblr user named tvcm posted the GIF to his or her page, accumulating some 32,000 notes to date. A year later, ostentatious-gentleman took the same GIF for himself or herself, posting to their Tumblr with the caption of "Spiderman Vs. Antman." It gained more than 131,000 notes as of the end of 2018.
The current macro image form of Spider-Man With a Wrench hit Reddit's subreddit of r/dankmemes on May 19, 2019, where u/Divaura was the first to use it.
Meaning
In most cases, the Spider-Man With a Wrench image macro is used in a literal sense, in which Spider-Man uses the wrench to beat an object that is photoshopped, often poorly, into the photo.
In at least one case, a Reddit user replaced the background with a wooden floor.
Examples
Popularity
See also