Mike Wazowski-Sulley Face Swap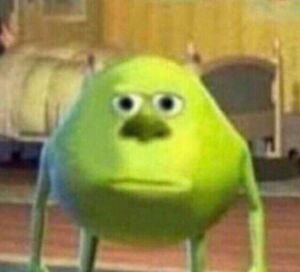 About
In 2019, the Disney entertainment conglomerate inaugurated its long-awaited digital video streaming service, Disney+, and one of its highlights was the announcement of "Monsters at Work," an animated series based on the successful Pixar film "Monsters, Inc."
While this endearing and extremely clever movie, which dates back to 2001, seems to be ripe for memecraft, it has somehow flown under the radar of meme makers.
The "Mike Wazowski-Sulley Face Swap" image reaction is one of about a handful of memes originating from the 2001 film, and it did not catch on until the original image was altered on graphic editing software such as Photoshop.
Origin
The meme was originally posted on the Facebook page Sulley-core in mid-July 2019, and became popular as a reaction image rather quickly.
By the time the image was shared on Twitter, it had been shared thousands of times in Spanish language circles, but its peak exposure took place on Reddit forums during August 2019.
Meaning
This meme is similar to a face-palm image reaction; it is perfect for overly ironic situations that leave you confused and perplexed, and it can be very effective when you are unable to get a point across because the discussion is too bizarre for words.
Examples
Popularity
See also