Never Again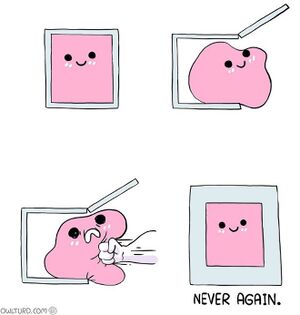 About
The term "Owlturd Comix "Vulnerable" Parodies," which is also referred to as "Never Again," refers to variations of the webcomic "Vulnerable" created by Owlturd Comix that include object labels. Although the comic was initially released in 2017, its parodies began to gain widespread attention in December of 2019.
Origin
Vulnerable is a four-panel comic that was published by Owlturd on April 21st, 2017. The comic features a pink character who is enclosed in a box and says, "Maybe I don't have to be so tough." The lid of the box is lifted, and the pink character steps out, saying, "Perhaps there are times when I can let myself be vulnerable." The pink character takes a punch in the face in the third panel of the comic. The story concludes with the character going back to the box and declaring, "Never again." On Instagram, the post was liked by more than 137,000 people under the username @shencomix.
Meaning
The meaning of this meme is to show what can happen if you try to get out of your usual area. The meme is often used to humorously depict situations where someone tries something new and ends up regretting it. Overall, the meme serves as a reminder to embrace new experiences, but also to be cautious and aware of potential risks.
Examples
Popularity
See also