No, I don't think I will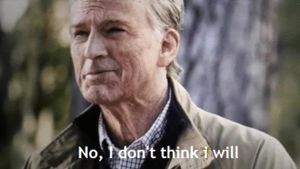 About
The "No, I don't think I will" meme comes from the 2019 superhero film Avengers: Endgame. The end of the movie shows an older version of Steve Rogers (Captain America).
The other Avengers ask him to describe his past. Steve looks off into the distance with a smile. Then he responds with "No, I don't think I will." The meme is a screenshot of that scene with Steve Rogers' face and the text subtitle.
Origin
This meme started in late May of 2019. It first appeared on the Reddit board r/memes.
Meaning
The image of Steve Rogers is often added to text posts. It is used in a sarcastic or dismissive way.
One example is text that says "Parents: Why don't you study for your finals, you've been making Old Steve Rogers "No, I don't think I will" memes all weekend." Below the text is the Steve Rogers screenshot.
Examples
Popularity
See also