Professional Players vs Veteran Players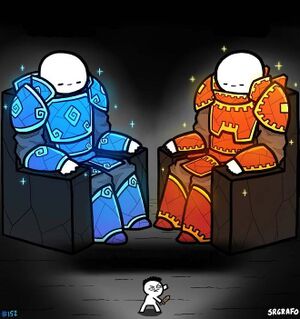 About
"Professional Players vs Veteran Players" is a meme that comes from a series of online comic strips.
In other words, a webcomic. There are three figures displayed in the image. One is a professional player, one is a veteran player, and one is a minuscule character who doesn't quite grasp game mechanics.
The artist intentionally made the latter figure comically tiny to convey its inferiority.
Origin
SrGrafo, a noted Redditor, introduced the digital world to the "Professional Players vs Veteran Players" meme on Oct. 12, 2019.
After posting the photo to a subreddit, the post took gamers by storm. In two short weeks, SrGrafo's post gained 108,000 points. The comment section went wild as well, with over 1,300 people leaving remarks.
ShowMeDaDadda, another Redditor, tweaked the image and added quirky quotes. Their rendition received more than 26,000 points. Soon after, everyone began putting their spin on the meme.
Meaning
It doesn't require deep thinking to understand the image. In essence, people use it when attempting to describe a situation in which two superior things render something seemingly useless or regard it with little importance.
For instance, a mother and father ignoring their child who's talking about video games they know nothing about.
Examples
Popularity
See also