Robin from Stranger Things Holding a Whiteboard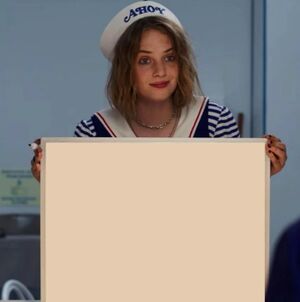 About
This image is taken from a funny scene in "Stranger Things" season 3. Robin shows a tally on a whiteboard to prove that her co-worker, Steve, does not no how to seduce women.
Origin
The Netflix original 'Stranger Things' season 3 was released on July 4, 2019.
The premiere episode contains a humorous scene at Scoops Ahoy where Robin uses a whiteboard to tally all of Steve's failed attempts at picking up a lady.
The following day the clip was posted online by VolcusClips and went viral on YouTube. It received close to two thousand views in less than a week.
Spread
The whiteboard scene became a popular way for social media users to share their opinion in a unique fashion.
Two days after the premiere, Redditors started editing the still image of Robin holding up the whiteboard and adding their thoughts in lieu of the tally. Their posts acquired over 90% of upvotes from its viewers.
Examples
Popularity
See also