Schoolgirl Spilling Her Lunch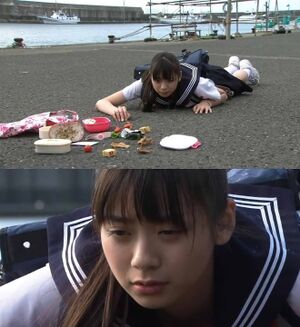 About
Remix memes are in a category of their own. An image macro that may have barely gained interest in obscure online forums may resurface a few years later thanks to a clever reinterpretation that makes them go viral; such is the case of "Schoolgirl Spilling Her Lunch", a two-panel image macro that started off as a commentary on a Japanese television series, but eventually became fodder for conservative political activists who rile against the administration of former United States President Barack Obama.
Origin
The two images come from a scene of the Japanese series "Love Letter," which aired in 2008. In the scene, a schoolgirl dressed like a Sailor Moon character trips on her own feet and looks with forlorn at her spilled lunch.
A couple of years later, Japanese fans of the show posted the two-panel image on a forum dedicated to TV cosplay, but it took another three years for it to become a full meme on a Reddit forum that made fun of food porn threads on Instagram.
The image became even more popular when it was reworked by American conservatives on the Imgur social network, which in 2015 had turned into a watering hole for voters disillusioned with the Obama administration. Since then, the image macro has been remixed to make fun of conservatives.
Meaning
This meme can be used and modified to illustrate situations in which you want to vent your frustrations with sarcastic gratitude.
Examples
Popularity
See also