Senpai of the Pool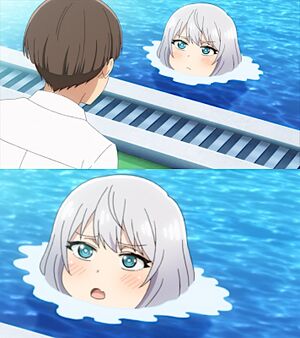 About
Anything can happen in the meme universe, and this includes strange memes inspiring references or else make fun of original memes.
In the case of "Senpai of the Pool" or "Sempai of the Pool", we have two unlikely sources: A historical photograph from World War II and a scene from the Magical Senpai anime series, which was adapted from a 2016 manga about a Japanese schoolgirl whose skills as a magician are overcome by social anxieties.
The historical WWII instance is known as "Panzer of the Lake," and it features a soldier wistfully looking at a tank submerged in a lake. "Senpai of the Pool" references the original joke, but it can also stand on its own.
Origin
"Panzer of the Lake" dates back to August 2018, when it first appeared in the HistoryMemes section of Reddit, where it was an instant hit because the awkward scene depicted by the photo. The two-panel format of "Panzer of the Lake" was ideal for giving mock advice.
A year later, "Senpai of the Pool" appeared in two-panel format, also on Reddit, but this time in the AnimeMemes section. It was also a hit because of its versatility as well as the reference to internet culture, recent history, and WWII.
Meaning
"Senpai of the Pool" is actually more useful in its object-labeling format because it can be use to make fun of people who choose the most awkward situations to ask for advice.
The most ideal punchlines deal with philosophical advice that is also ridiculous and self-referential.
Examples
Popularity
See also