So That Was a Fucking Lie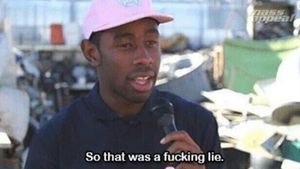 "So that was a fucking lie" meme hit so close to home for so many of us, but how did it get started?
About
This meme was inspired by a line said by rapper artist Tyler the Creator in an interview. Since then the photo meme has taken on a life of its own. The photo with text has been particularly popular to make snarky remarks towards political and world news stories.
Origin
The phrase was first uttered by Tyler the Creator in a 2014 video shot by Mass Appeal Magazine. In the video, actor and comedian Eric Andre made mention that the pair were in Mass Appeal magazine and Tyler the Creator steals the mic to point out Andre's white lie for the sake of the video. His line, "So that was a fucking lie" caught on and evolved.
Meaning
"That was a fucking lie" has grown into a way to call out bullshit in a wide variety of ways. A lot of the versions are self-deprecating. An example of a popular version include the following:
Me to Myself: I can tell this one is different. He isn't like all the other guys.
Me One Week Later: That was a fucking lie.
Examples
Popularity
See also