Spraying Beer in Papanomaly's Face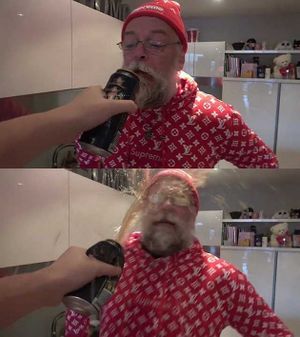 About
The week-old meme titled "Spraying Beer in Papanomaly's Face" is one of the Internet's latest and hottest memes.
It features two picture frames stacked on top of one another with the top featuring a Supreme-wearing, 60-odd-year-old man peering down into a black beer can.
The bottom frame is taken shortly after YouTuber Anomaly opens the can and squeezes the can firmly enough to launch a firehose-sized stream of beer into the man's face.
Origin
Anomaly is a Swedish YouTuber who is best known for his Counter-Strike: Global Offensive gameplay and commentary videos. The meme features two screenshots taken from the Jan. 2019 Anomaly video titled "CHRISTMAS WITH ANOMALY (AND SANTA CLAUS PAPA)."
Meaning
The meme features three main subjects: the beer can, the arm holding the beer can, and the man.
The beer can is adorned with a sentiment of something that seems positive. "Me" is slapped over the red-garment-wearing old man. Lastly, the person, group, or organization that shares the aforementioned sentiment is identified on the arm.
Spraying Beer in Papanomaly's Face is used to bring light to things that seem positive but turn out to be the opposite.
Examples
Popularity