Stonks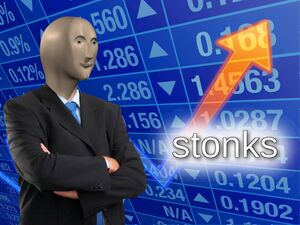 About
The well-crafted "Stonks" meme refers to a bizarre image of the esteemed Meme Man standing in front of a stock market green screen. The bottom right corner of the image reads "stonks." The man is donning a suit and tie, only further highlighting the business essence of the image.
Origin
This goofy image made its debut over two years ago. On June 5, 2017, Facebook page Special Meme Fresh brought it to fruition. Before too long, the picture garnered thousands of likes and comments. Soon after, other platforms, including YouTube and Reddit, put their own spin on it.
Meaning
The Stonks image pokes fun at the complex dynamics of corporate America. One such aspect is the stock market. Some have even photoshopped the faces of renowned businesspeople into the picture in an effort to bring the joke full circle. The picture is most commonly used to depict hard-to-digest business affairs.
Examples
Popularity
See also