That's the neat part, you don't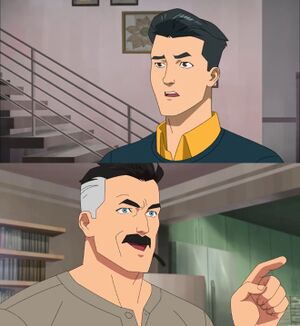 About
The meme known as "That's the neat part, you don't" is an exploit taken from the animated adaptation of Robert Kirkman's independently produced "Invincible" comic book. The eponymous bit of dialogue happens in an exchange between Mark and Nolan Grayson and is thus arranged so mark asks various questions, with the panel of Nolan anwering with the catchphrase.
Origin
The meme debuted out of a conversation between Mark, who goes by the hero name of Invincible, and Nolan, who goes by the hero name of Omni-Man, from the second episode of the show's first season. Curious about the extent and science behind his abilities, Mark asks his father how he can breathe while zooming about outer space. Nolan replies with the phrase.
Meaning
The meme has multiple applications, either quipping about how difficult something is or simply sidestepping a topic entirely. Examples of proper applications where the phrase is presented as the answer include the following:
Inquiring about the process of buying a home.
New players asking veterans of a game when they will start having fun.
A person asking questions about life and some labelled aspect of their personality asserts the point.
A sidekick asking his hero mentor how to permanently stop crime and avoid ever having to deal with the drama of a rogue's gallery.
Examples
Popularity
See also