When I'm in a Competition and My Opponent Is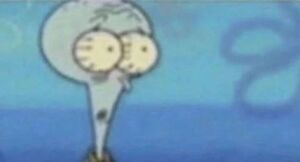 About
The phrase "When I'm in a Competition and My Opponent Is" is a series of image caption and GIF caption memes that are based on the phrasal template that is used to make fun of members of different groups and fandoms by claiming that they would be unbeatable in a particular competition. The "Tonight?" Squidward GIF is typically combined with the caption in most of the memes, though others featuring Donkey Kong turning away from a refrigerator are also common.
Origin
Before June 2020, an unidentified user created a GIF caption meme by combining the caption "When I have to win an overused joke competition and my opponent is a Twitter user" with a GIF of Donkey Kong turning away from a refrigerator. The meme has since gone viral. The earliest found repost of the GIF caption was made by Instagram user aaron.uh on June 1st, 2020. The post received over 8,600 likes and 61,000 views in just one year's time.
The portion of the caption that read "overused joke competition" remained unchanged until the 7th of July, 2021, when a user on Twitter with the handle @Edgyninja1 posted a version of the meme with the caption, "When I'm in a boot licking competition and my opponent is a Nintendo fan." This version of the meme also replaced the image of Donkey Kong with a reaction image of Squidward.
Meaning
The meme basically shows a shock reaction to your nightmare opponent in some competition. It frequently describes how you feel intimidated or overpowered by a rival in a competition. 
Examples
Popularity
See also