Wouldn't That Make You Gay?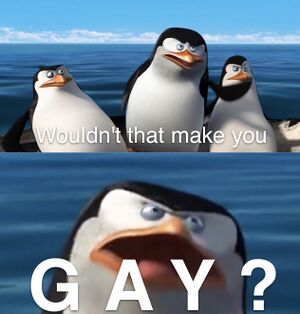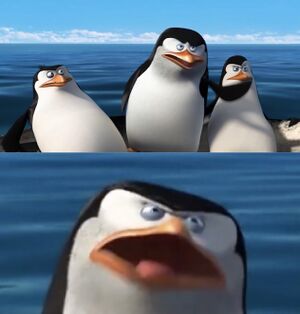 About
At a time when society is working on becoming more inclusive and accepting of people who do not conform to binary sexual orientation, it is surprising to see memes such as "Wouldn't That Make You Gay?," a two-panel image macro made from a scene in the 2014 animated Dreamworks film "Penguins of Madagascar."
The premise of this image macro is based on the stale practice of using "gay" as the punchline to a juvenile and bigoted joke.
Origin
The history of this meme dates back to 2018; it first appeared on YouTube as a clumsily edited video depicting a scene when a bunch of penguins having a conversation aboard a life raft, but the dialog featured a nonsensical exchange between former United States Presidents Donald Trump and Barack Obama about racist speech.
The point of the video was to portray Trump as an idiot, but the scene was later isolated by YouTube users who focused solely on the "wouldn't that make you gay?" line.
The earliest version as an image macro appeared on Reddit in mid-2019; it did not take long for it to be released as a template, and it was mostly used to tell "gay jokes." In January 2021, however, the template was modified so that the "gay" aspect was dropped in favor of other terms to illustrate awkwardly funny situations. One example involved The New York Times mentioning a book and automatically making it a best-seller without even reviewing it.
Meaning
If you leave the antiquated "gay" out of this meme, it becomes funnier and more effective. You can use it to express irony, sarcasm, and inadequacy.
Examples
Popularity
See also