Young Michael Scott Shaking Ed Truck's Hand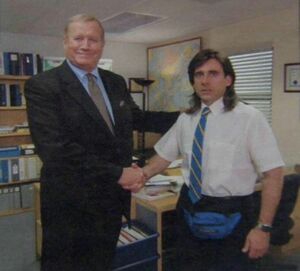 About
In the long-running joke show, The Office, Michael Scott whips out an old photocopied handout of himself shaking hands with a young Michael. This creates some awkward moments where the older Michael awkwardly tries to shake Young Michael's hand without being seen by others.
Origin
The Office is a show about the happenings at the fictional paper company Dunder Mifflin and its humorous boss Michael Scott. On NBC, it ran for nine seasons from March 24, 2005, to May 16, 2013. Steve Carell played Michael Scott, who brought many laughs to The Office with his antic.
He often tries too hard and ends up embarrassing himself. This meme began to spread when The Office began to air reruns on TBS in 2014. Finally, it went viral on the internet. Ever since then, this meme has been a favorite among many, resulting in many screencaps from the show. Although it primarily originates from the TBS airings, it has crossed many other social networks.
Meaning
A running joke within the show, mostly during seasons one and two, was that every time someone passed by him, he would try to sneakily shake their hand so they wouldn't see him do it. This caught on as many people started pretending that they didn't know what he wanted then shaking his hand back as soon as they saw that he had waved at them. This then became a running joke among the viewers.
Examples
Popularity
See also