All I Have Are Negative Thoughts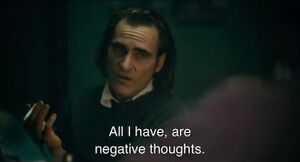 About
Much like many memes these days, "All I Have Are Negative Thoughts" derives from "Joker," a box office smash that hit theaters this past October.
The scene was shown in the trailer and made even bigger waves after the debut of the movie. In short, the clip shows Arthur Fleck, the main protagonist, speaking with a social worker. When the social worker asks if he has any negative thoughts, Fleck claims that all he has are negative thoughts. That's all it took for the scene to evolve into a digital sensation.
Origin
On Aug. 28, 2019, the film trailer for "Joker" was released. It took less than 24 hours for the public to put a comedic spin on the scene between Fleck and the social worker.
Not surprisingly, the first known use of the meme was posted to Twitter. Someduudee is credited with bringing the meme to life. Later that same day, trevorwoodkinda, a Redditor, posted a different version of the image and gained over 2,000 upvotes. From there, everyone hopped on the bandwagon.
Meaning
People use the "All I Have Are Negative Thoughts" image to express their deep-seated discontent with someone or something. For instance, when a text doesn't go through, when Danny Devito appears in a movie, or when music artists cancel a show.
Examples
Popularity
See also