Bugs Bunny's "No"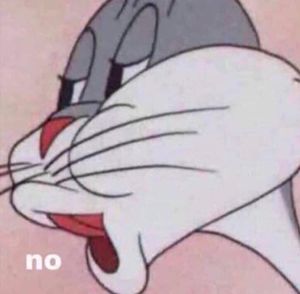 About
Bugs Bunny's "No" is the name of a meme based around an image of the cartoon character Bugs Bunny. Occasionally, this image will have the word "No" edited on top of it. Generally, this is used as a reaction image or to reference various different things.
Origin
In an episode of the cartoon Looney Tunes, the character Bugs Bunny is falling. In an effort to save himself, Bugs Bunny drinks a bottle of the comically named hare tonic. In the process of drinking the tonic, Bugs Bunny makes a humorous and exploitable face.
The first usage of this scene as a meme was in February of 2015. At this time, a Tumblr user posted a rotated image taken from the scene. Later on, this image was used in a variety of different ways. At this time the images were generally used as a reference to drinking alcoholic beverages.
A new format took off in April of 2019. This format involved a cropped image of the original format with a caption of "No" added on top of it. This format was first posted to Reddit before spreading to other websites. Reddit User Asofi00 was the first to post an image using this format.
Meaning
The original format was generally used to reference alcoholic beverages and as a general reaction image. The format that started in 2019 is typically used to convey that something will clearly be refused. Some things that this format has referenced include Dungeons and Dragons and smartphone apps.
Examples
Popularity
See also