I'm Gonna Do What's Called a Pro Gamer Move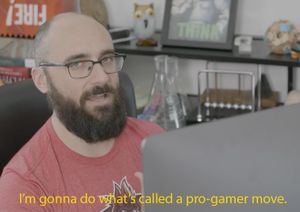 About
The ever-iconic "I'm Gonna Do What's Called A Pro Gamer Move" meme came to life on Michael Stevens' YouTube channel.
Stevens, otherwise known as Vsauce, creates content on education, information, science, technology, and gaming. The latter is what he's most prominently known for.
In an effort to blend his informative format with his affinity for gaming, Stevens pioneered a series dubbed "Let's Play." The one-liner is uttered in an episode of this series. The video is entitled "Let's Play Super Mario Quadratics."
Origin
Stevens uploaded said video on March 29, 2019. The video game he was reviewing was "Super Mario Quadratics."
The video is over 20 minutes long, and Stevens is heard saying "I'm gonna do what's called a pro gamer move" at the 13-minute mark.
The internet promptly made a meme out of Stevens' comment, poking fun at gamers who think they're infinitely wiser than otherwise amateur gamers. When the format made its way to Reddit one day later, some users who exploited it were format420, Supreme_Motu, and dark_memes0101.
Meaning
As previously mentioned, the meme is used to undermine gamers who are notorious for showboating.
Not surprisingly, the image has transcended beyond the gaming realm. Now, the image has become synonymous with anyone who's trying to boast.
For instance, the resurrection of Jesus, the Germans after invading French borders, and a student one-upping their teacher.
Examples
Popularity
See also