Oh Fuck I Forgot To Give You A Brain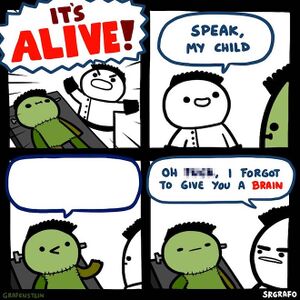 About
The "Oh Fuck I Forgot To Give You A Brain" meme comes from an online comic series that features parodies from the movie "Frankenstein."
The image shows Dr. Frankenstein attempting to talk to his monster. When the monster doesn't respond, Dr. Frankenstein has an enlightening moment. He quickly realizes that his creation doesn't have the mental capacity to answer because he forgot to give him a brain.
Origin
SrGrafo, a popular Redditor, introduced the image to the digital domain on Oct. 11, 2019. After posting the photo to a subreddit, the picture received 1,500 points. It didn't take long for others to create their own variations.
Mikeyjj2, another member of the Reddit community, created an edit of the meme that gained over 26,000 points in three days. In the same week, the image blew up.
Currently, various social media platforms are welcoming the meme with open arms. Some of which include Instagram, Twitter, and Facebook.
Meaning
The image is typically used in response to someone saying something foolish.
For example, when people state that men can't be sexually assaulted. Posting the picture as a response is a perfect way to say that those who support that notion are inherently stupid and don't have a brain.
Examples
Popularity
See also