So Anyway, I Started Blasting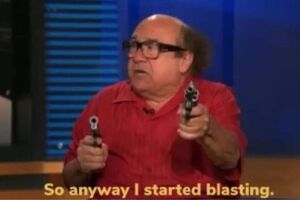 About
This a family of memes based on an image of Danny DeVito brandishing a couple of pistols. It appears with various captions and opening lines, but the punchline is always "So Anyway, I Started Blasting."
Origin
The image is taken from "Gun Fever Too: Still Hot," an episode of the dark comedy It's Always Sunny in Philadelphia, featuring DeVito as Frank Reynolds.
On the show, Frank is appearing on a local television station to argue in favor of gun ownership and explains how he fought off robbers: "Anyway, I started blasting," he explains, while waving his guns around. "Pow! Pow! Now, I don't see too good, so I missed."
Meaning
The meme is based on the idea of indiscriminate violence as a response.
Just as Frank on the show claims to have responded to attackers by firing blindly in their general direction, the subject of the meme responds with overwhelming, and poorly aimed, force to a particular situation.
It can be used to parody overreaction to a minor problem, or to mock powerful entities that respond with overwhelming force to minor threats. It can also be used to poke fun at gun culture, or fantasies of violent machismo.
Examples
Popularity
See also