Surprised Scarlett Johansson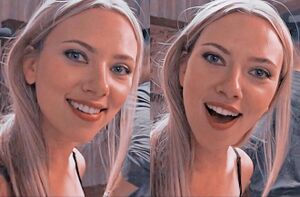 About
Scarlett Johansson is a beautiful and talented actress who seems incapable of making an expression that does not look good; she is the kind of actress that cinematographers simply love to film because they can always count on getting a great shot.
Based on this photogenic trait, it is not surprising to learn that a photo of Johansson being surprised would be turned into a meme.
Origin
Unlike other Hollywood memes, this one was not captured from a film or television scene; the two-image reaction panel is from the set of "Don Jon," a Millennial Generation film released in 2013. The two photographs are candid takes showing Johansson smiling before looking like she was pleasantly surprised.
Even though the photos have probably been online for a few years, they did not hit the world of internet memetics until September 2020, right in the midst of the coronavirus pandemic. The photos first showed up on a Reddit forum dedicated to wholesome images, and they were earnestly used to describe a reaction of being happily surprised.
It took about three days and thousands of likes and reactions on Reddit for Photoshop artists to juxtapose the images with Star Wars themes, thus becoming even more popular.
Meaning
You will want to keep these two images in your online discussion arsenal of reactions, but only if you are honest and earnest about the way you feel. You can tell Johansson was not faking her emotions when she was photographed, and there is no reason for you to do so when using this meme.
Examples
Popularity
See also