Trump and Kim Jong Un in the DMZ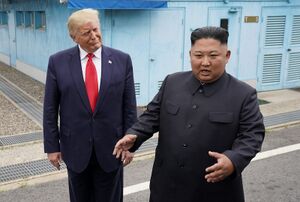 About
Memes featuring world leaders are pretty common, particularly when they feature outlandish personalities such as United States President Donald Trump and Supreme Leader Kim Jong-un of the Democratic People's Republic of Korea.
In late June 2019, these two highly controversial political leaders met for the third time since Trump took office, and they did so at the Korean Demilitarized Zone. The U.S.
President actually crossed the border into North Korea with the Supreme Leader by his side, and plenty of cameras captured this surreal moment in history. Naturally, at least one meme had to be made of this event, and it only took a few hours for it to appear.
Origin
A few image macros of this meme were posted on Reddit on the same day Trump and his Korean counterpart were in the DMZ together.
The photograph probably originated from an international news wire service; in fact, national broadcasters such as Deutsche Welle of Germany and RTVE of Spain used it for their news segments.
In the image, the Supreme Leader appears to be explaining something to Trump, who has a strange look on his face, a mixture of sardonic befuddlement, politeness, and cluelessness.

Meaning
In essence, this meme can be used to explain a situation whereby someone is trying to make an impossible point or argument.
The goal is to suppress frustration at how someone can be so headstrong in proving a point that the entire world knows is incorrect.
Examples
Popularity
See also