Will You Shut Up Man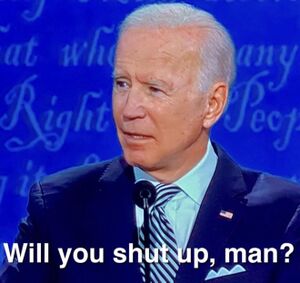 About
If you've been anywhere near social media over the last few days, you've probably seen a flurry of memes featuring the slogan "Will You Shut Up Man".
The memes based around this slogan can take on a variety of forms; however, most will probably feature the image of Joe Biden at a podium wearing an expression of disbelief. So why are image macros related to the slogan suddenly so popular? What were they made in reference to?
Origin
In fact, the phrase "Will you shut up, man?" refers to a statement made by former Vice President Joe Biden during the first presidential candidate debate of 2020 on September 29th. Biden was responding to President Donald Trump's constant interruptions during the debate: In most elections, debates are conducted such that each participant is given a set amount of time to make an argument or address certain key policy points.
Despite these ground rules being set in place during the first debate, however, President Trump approached the occasion with a kind of "bully pulpit" approach designed to portray Biden as weak on issues. To wit, every time that Biden entered into a new line of thought or attempted to express his policy views, Trump would interrupt him.
Meaning
In fact, this point of conflict is where the meaning of the image comes from: Biden became so exasperated by Trump's constant interruptions that he referred to the President as a "clown." After a particularly blatant interruption on Trump's part, Biden also told the President to "shut up." Hence the joke.
By all accounts, the debate was one of the most divisive in American history. Indeed, the formality of presidential election protocols usually precludes candidates from speaking in such "low" language; many pundits saw the debate as a severe break from American political traditions of the past. Whatever the case may be, social media certainly went wild with new memes to commemorate the occasion.
Examples
Popularity
See also