Woman Pointing At Cat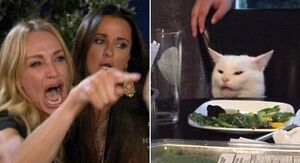 About
One of the joys of internet culture is known as the mashup, which is the arrangement, rearrangement and mixing of various digital elements for the purpose of serving the interest of subculture.
In the world of memes, mashups are not as common as one would expect them to be, but they are often delightful, and this is the case of "Woman Pointing at Cat," a two-panel image macro that emerged in 2019.
What is interesting about the mashup of the two images in this meme is that one of them dates back to 2011 and the other comes from a social media account that is not exactly popular.
Origin
In June 2019, the first set of "Woman Pointing at Cat" memes appeared on Reddit; the original poster was kind enough to provide a template, which consisted of two side-by-side images, one of a scene from the second season of the "Real Housewives of Beverly Hills," the successful and delightfully trashy scripted reality show broadcast on the Bravo cable television network.
The other image comes from a Tumblr account know as "All Things Beautiful," which mostly shares photographs of a white cat exasperated at the prospect of having to eat vegetables.
It should be noted that the woman depicted in this meme is Taylor Armstrong, whose husband Russell committed suicide in 2011 in the midst of filming; naturally, this devastating event was not scripted.
Meaning
Basically, this meme is useful to illustrate a situation whereby an individual or a group overreact and accuse others who are confused and slightly bothered.
Over-the-top reactions are common in reality TV shows; real life, on the other hand, tends to be more measured and demured.
Examples
Popularity
See also