Woman Showing Papers to Grey Cat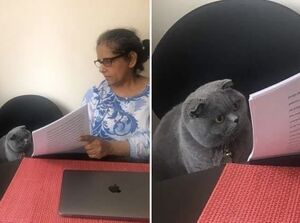 About
The world of internet memetics is filled with images of cats. Domestic felines were among the first to be depicted in online memes, and this trend is not showing any signs of slowing down during the coronavirus pandemic of 2020, a time when netizens are in clear need of entertainment. "Woman Showing Papers to Grey Cat" is a two-panel image that can be used for object labeling or clever commentary.
Origin
In April 2019, about a year before declaration of the pandemic, a Tumblr user posted an image of a woman sitting at a table in front of a fancy Apple MacBook with the lid closed; next to the woman, a gray cat looks at a set of documents that the woman is holding. In the candid photo, the cat appears to be reading the papers and being surprised. The image was added to a list of cat photos published by Buzzfeed in November 2019, and it was later posted on Reddit as a two-panel image macro.
In mid-September 2020, the two-panel image was posted again on Reddit, this time labeled to make fun of Rockstar Games and its ongoing development of the Grand Theft Auto video game franchise; this version received quite a few positive comments, and it unleashed a flurry of meme creativity.
Meaning
The two-panel image is perfect for whenever you want to make fun of a situation in which you are shown evidence of something you did, but now truly regret in hindsight. A good example is when you are shown social media updates that you posted and later got you in trouble.
Examples
Popularity
See also