Yeah, This Is Big Brain Time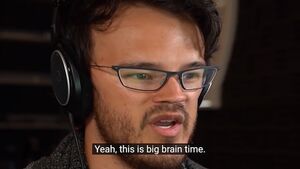 About
A funny scene taken from an online YouTube video entitled 'Baldi's Basics 1 Year Birthday Bash' inspired a wave of memes being labeled "Yeah, This Is Big Brain Time".
The memes are being used as an exaggerated sign of intelligence or genius thought. They have also been used to take a humorous sarcastic dab at the less intelligent or situations that required more thought than they were afforded.
Origin
YouTuber Markiplier posted a video called 'Baldi's Basics 1 Year Birthday Bash' during Spring of 2019. The still image being used was clipped from the scene in which Markiplier is boasting about his ingenious decisions as he hides from Baldi in one of the classrooms. Special effects make his head comically appear to be inflated and storing a huge brain.
The first 'This Is Big Brain Time' memes were posted by subredditors and gained over 10,000 upvotes in the span of 3 months. It picked up the most momentum after ManyFnafb's subreddit post of his unique meme spin in late May of 2019. By the second week in June the meme template had soared in popularity. Redditor Tommy69K's meme accrued over 70,000 upvotes within a couple of months.
Meaning
This meme is a great template to use for calling someone out with a huge ego or pointing out a situation that requires alot more thought. It could also be used in a positive light to reflect pure genius.
Examples
Popularity
See also