You Just Got Vectored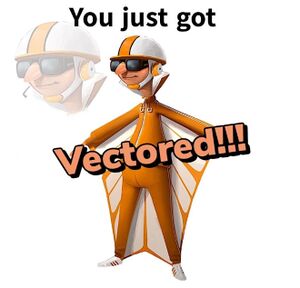 About
"You Just Got Vectored" memes are created from a still image of the character, Vector, from the blockbuster movie Despicable Me. The first posts emerged during the trend of memes featuring Vector in 2017. It gradually picked up momentum and gained popularity a couple of years later.
Origin
Redditor vpurtee98 submitted an image of Vector that contained text that bore a resemblance to the Beaned meme on March 8, 2017. This post earned closed to 200 upvote points. A similar post made an appearance on the iFunny platform by user _woke_2016 in 2017.
The image began to circulate amongst users when another Reddit user, SebastianMalvaroza, added their own unique text to the image to reflect having conquered a game. This post was submitted during the fall of 2019 and gained over 1,000 upvotes. It began gaining more popularity in December 2019 on /r/dankmemes.
During the second week of December 2019, Redditor LlamaCowMeow submitted a post that earned nearly 9,000 points. Redditor benarnold1001 followed suit by submitting his own version and earned more than 1,500 points. StayHipp featured the posts on December 12, 2019.
Meaning
The still image is being used as a platform to proclaim a "W", also known as a big win, within serious or lighthearted situations and topics. The text being chosen by the online community may be considered sarcastic and categorized as dark humor. Beaned submissions were similar in delivering their message.
Examples
Popularity
See also