I Said We Sad Today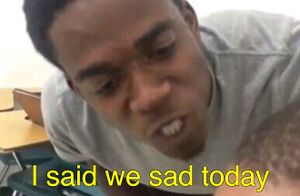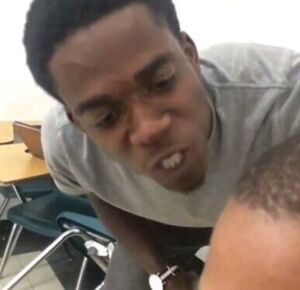 About
This meme is an image macro of one man getting up into another man's face and saying "I Said We Sad Today." It is a reaction meme and commonly used as a response to what someone has done or said to make the sharer upset.
Origin
In 2015 on November 18th, an Instagram user that goes by @renny shared a video entitled with "Jealous Boyfriends Be Like." In the video, a man is hanging with his girlfriend when she sneezes. A third party hears this sneeze and says "Bless you." This was his mistake. The boyfriend then stands up and starts threatening the man with his intimidating presence and shouts "She's blessed already in his ear." The video has received over 110,000 likes so far.
Meaning
"I said we sad today" is a reaction used when something happens that is upsetting. It is often used when having to go to work on a Saturday or being dumped by one's significant other. It expresses an emotional change that is the result of an action. It can be meant seriously or sarcastically, depending on the scenario in which it is being used.
Examples
Popularity
See also