Will Smith Slapping Chris Rock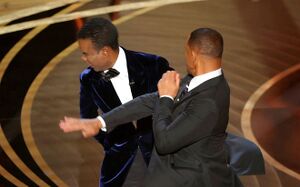 About
The "Will Smith Slapping Chris Rock" meme describes any image used to express an opinion about rapper, actor and director Will Smith slapping comedian Chris Rock or related life topics.
On Sunday, March 27, 2022, during the live broadcast of the 94th Oscars, Will Smith and his wife, Jada Pinkett Smith, waited near the stage to find out if he won the Oscar for Best Actor. Earlier in the show, actress Regina Hall used the Smith's open relationship status as the crude punchline for a joke. Smith didn't seem to approve and remained seated even when she insisted that he join her onstage.
Later, Chris Rock made a joke about Pinkett Smith's shaved head. He quipped, ""Jada I love you, 'G.I. Jane 2,' can't wait to see it." The statement referenced Demi Moore shaving her head for a military film role. At first, Smith seemed to find it funny until he noticed how much it upset his wife. He walked onto the stage, Rock said "Uh oh," likely believing he was about to be verbally reprimanded, and Smith slapped him. Smith then returned to his seat and exchanged heated words with Rock, including the phrase "Keep my wife's name out of your f*cking mouth!".
Origin
Several exploitable template and object-labeling memes appeared online also immediately, including images showing the slap, Smith and Rock together at past events and even DC's Batman slapping Robin and altered images of Smith seated at the Oscars with The Joker next to him. No single one has been credited yet as the first one.
Meaning
The Smiths and Rock don't have a pleasant history. Rock has targeted them repeatedly during award ceremonies and on social media for years. In this case, his statement about Pinkett Smith's nearly bald head seemed to touch a nerve because she struggles with an autoimmune disease called alopecia that has been causing her severe hair loss for years.
The meaning of Will Smith Slapping Chris Rock memes depends entirely on the method of referring to the event and context. Images might reference the event or acknowledge it as funny or shocking. Some images call out past moments or dialogue in which Will Smith expressed his support of passivism or weeped openly, Chris Rock acted like a bully, bullying in general, Smith acted violently and violence in general. In some instances, the images imply that Smith was temporarily insane or influenced by the Devil or evil. One image shows "Everybody Hates Chris," the title of a past Rock show, superimposed above the slap still picture.
Examples
Popularity
See also